Codegarden 2023 Revisited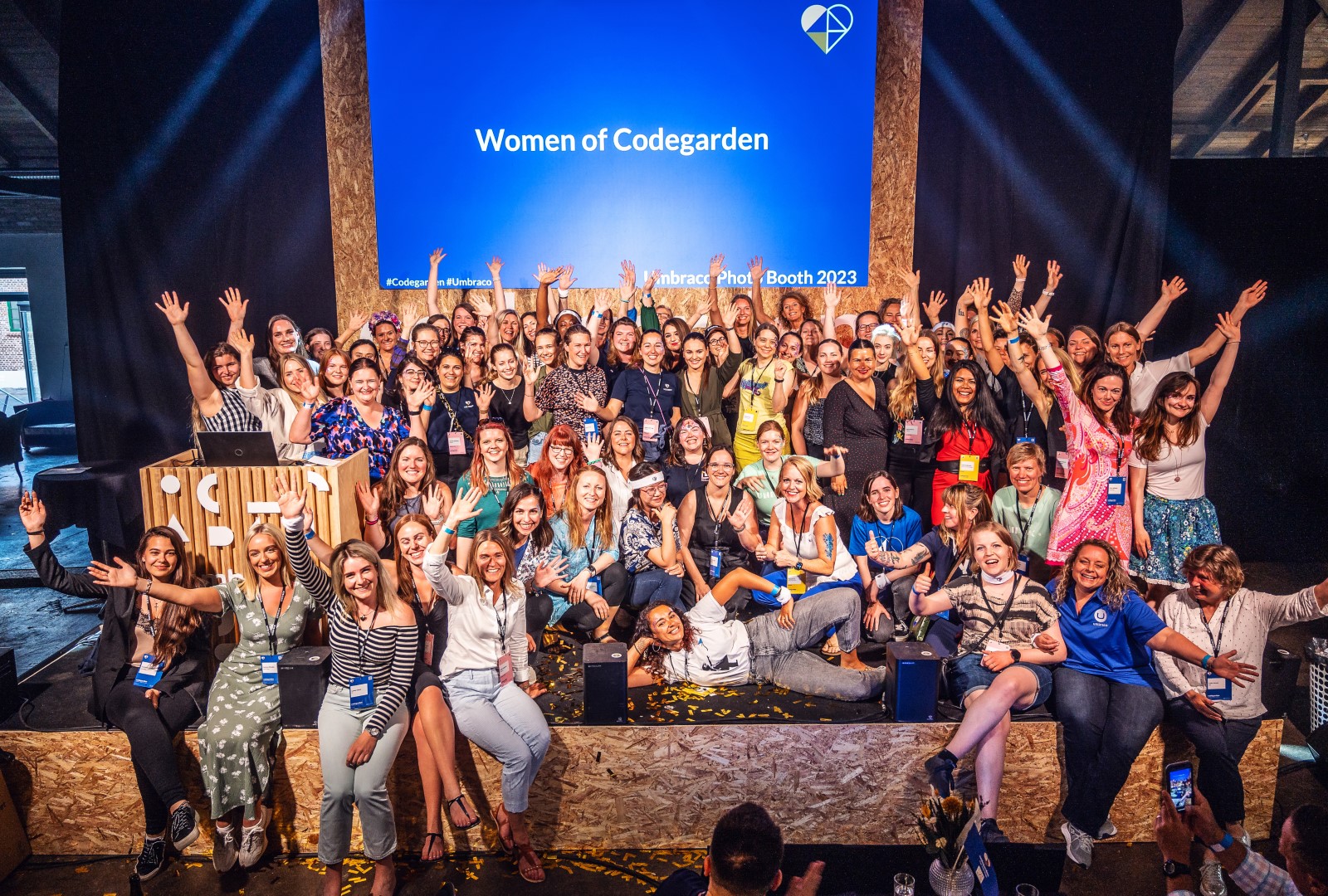 Codegarden 2023 has come to a close this June, but as a speaker, my Codegarden experience started months before. It was a weight I was happy to bear but excited that it has been lifted and I'm happy to share my experience from a speaker's perspective to inspire others to talk! Whether you are experienced or a total newbie, this community is the right place to start!
Looking Back
As of 2023, I've been to Codegarden a grand total of 3 times. In 2015, my first Codegarden event in Copenhagen, I was invited to speak by Niels H, the founder of Umbraco, who saw my 24 Days In Umbraco article on getting started with Umbraco. It was my first time going overseas, going to an Umbraco conference, and first time speaking! I celebrated with an Umbraco tattoo. In 2016, I came back to do my first PR, live on stage with Sebastian during his talk about how they run the open source project. Since then, a lot has changed, with Umbraco itself as a company and my own life experiences as well. However, there was one thing that did not change, the openness and friendliness of the Umbraco community.
Call for Speakers
For fun, I like to write down my goals for the year. I have even more fun when I check off these goals from my list, but on the 2023 goal list was to speak at a conference.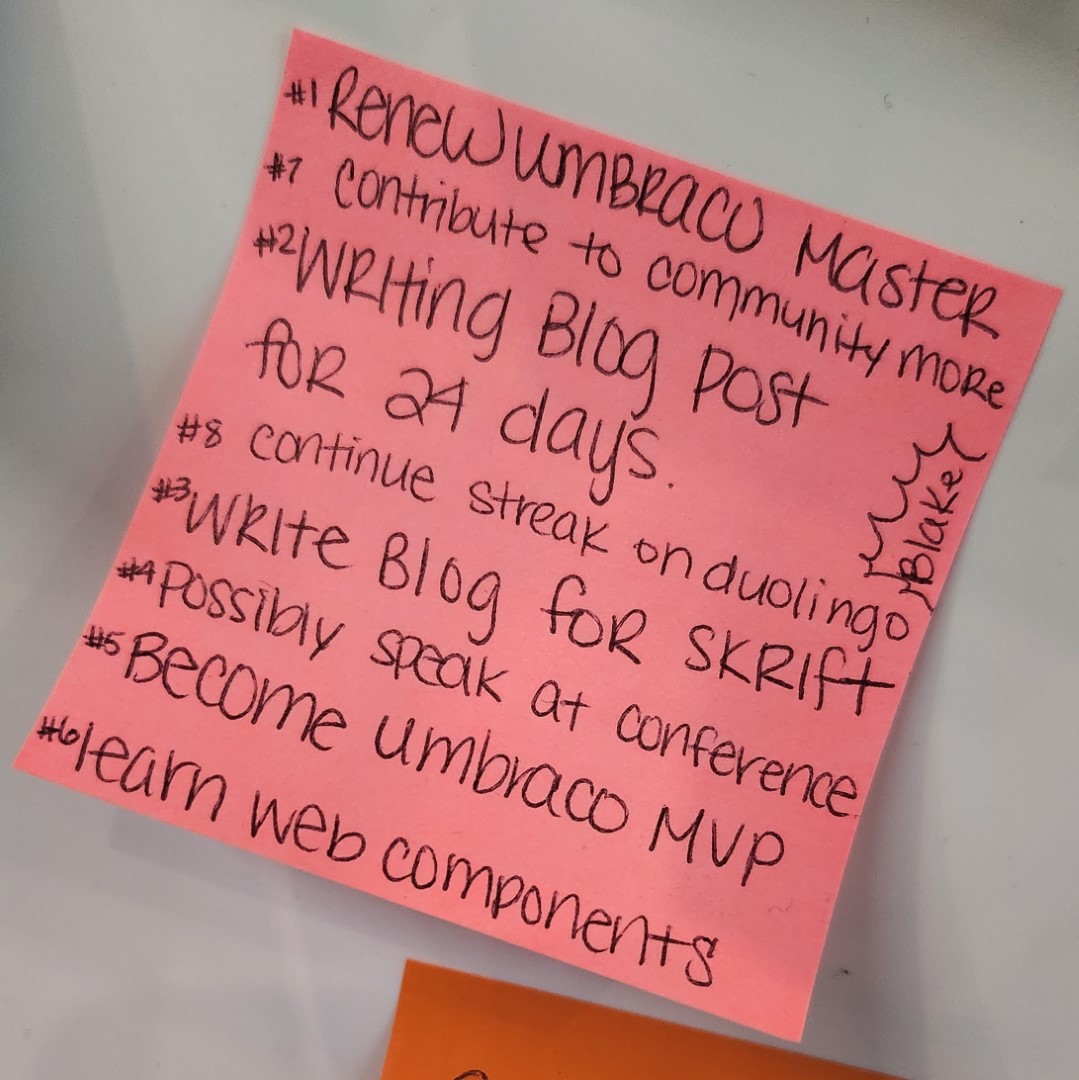 When the call for speakers opened up for Codegarden, I had no idea what I wanted to talk about, just that I wanted to share. My manager, Dennis Kardys, who is an amazing leader, motivator, and speaker was totally on board and supported this goal. So much so, that he even came up with a list of some topics that he thought I'd like to talk about. One of his topic suggestions was flexible pages vs. page types. This is something I have a lot of feelings, opinions, and beliefs on, however, I'm open to learning how others handle it and the use cases to adjust my strategy because sometimes there are times when it makes sense to change tactics for implementation. Thus, the talk submission draft began! Oh, and did I mention this was also 24 hours before the deadline for the call for speakers? Nothing like procrastination and a deadline to get you motivated! I had all but written off this goal for another year until the day before when we used my 1:1 meeting time to talk about how to structure a submission draft and I spent the afternoon and evening writing, rewriting, and tweaking my submission draft until it turned into something I was ready to submit.
Preparing A Presentation
Fast forward a month or so later and my talk got accepted. It was official, I was going to be announced as a speaker for Codegarden 2023. OMG! Now I have to really get it in gear because there is a legit deadline for an entire presentation I need to put together! This kicked off my codegarden experience and it was only April. The conference was in June! I spent a few weekends and randomly during evenings after work putting together examples and compiling the sticky notes that outlined the 3 takeaways I intended for the audience to take away from the talk. Let me tell you this board was a giant jumble of a hot mess, but it made sense in my brain, and that's all I needed to get started with organizing my thoughts.
Before I knew it, gorgeous summer weekends were upon me, like we are talking epic paddle boarding weather.
Then it was my birthday which meant a long week of a random road trip to the middle of nowhere in range of cell service for a hundred miles (or a gas station).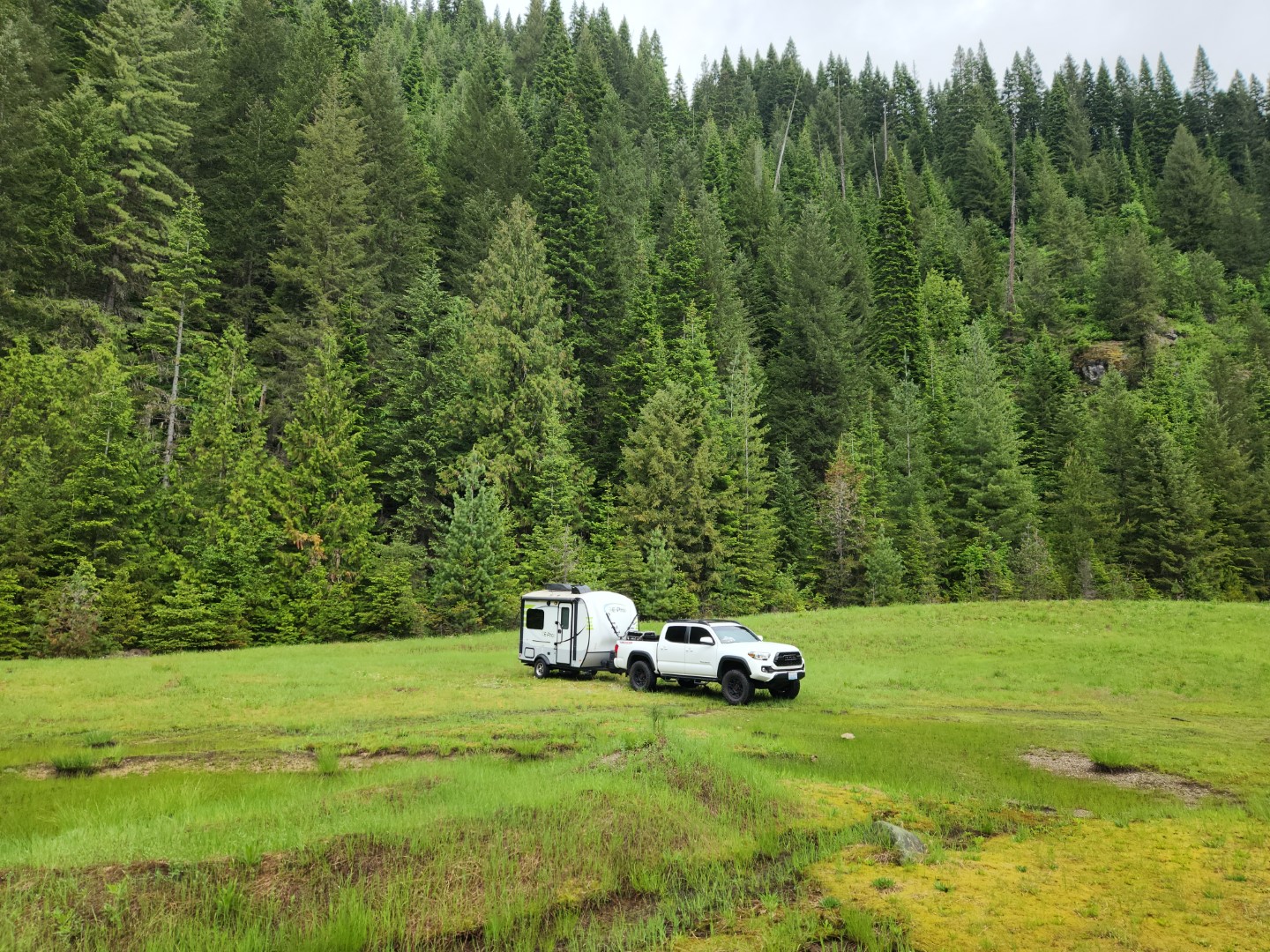 These amazing weekends were combined with some times I had to turn down going out so I could focus on my talk and practice speaking out loud, alone in my shed, standing in front of my computer. I practiced multiple times, recorded myself, wrote out my entire script, color-coded it, and timed it up with my slides as I practiced. This talk was different. This talk was me stepping out of my comfort zone to talk about something in a theoretical sense instead of actually building or training with something tangible to demonstrate. I was nervous, to say the least, and the nerves really started kicking into full swing the week before Codegarden. Apparently, that was when my brain decided to register that this was real life and it was happening. I wanted this talk to be great and I wanted to share what I had to say because I feel so passionately about going to bat for content editors, making sites accessible, and making something easy to maintain for years to come. Someone recently told me, "If it doesn't make me nervous, is it even important?" and that really stood out to me. This is really important to me and this did make me very nervous.
Traveling: Part 1
I set off for Copenhagen airport the Sunday morning before Codegarden. Coming from Spokane, WA, I had to fly to Seattle, to Iceland, and then arrived in Copenhagen Monday afternoon where I met up with my mom! She traveled just as long coming from Florida. Once we linked up and grabbed our bags, we headed through the cluster of people in the train station to figure out where the train to Odense would depart from.
The trains have always been a challenge for me during Codegarden. I can't for the life of me pronounce things correctly and in 2016, I actually boarded the wrong train, going the wrong way, only to be so late for the airport that I missed my flight and had to stay in Copenhagen another day. In fact, I've only ridden on trains when visiting Copenhagen. I don't live in a big city and rarely use public transportation, and if so, it's an Uber occasionally, so figuring out trains is a newer experience for me.
Turns out there was a strike going on this year and the trains were sort of a mess with scheduling adjustments on the fly. We had reserved seats but the train ended up being so crowded we stood the entire two-hour ride with our luggage before we made it to Odense St.
By the way, to the nice gentleman who helped catch me when I fell over, thank you. It was obvious I don't have my sea legs and that one turn was just enough to send me toppling over.
Once we stepped off the train at Odense St. I knew exactly where we were and I saw some familiar faces! We were greeted by the lovely Matt & Lucy Brailsford and Andy from Umbraco HQ! They happened to be on the same train in a different area. We said hi briefly and mom and I headed towards the thankfully close, Hotel Odeon where we promptly cleaned up and passed out. We were two days into our trip, arriving at the hotel Monday around 5pm, and we had only just gotten to the hotel.
Pre-Party Day
Tuesday morning I was up way too early for anyone who is used to the time zone and getting ready. Getting downstairs I immediately ran into young, but old, familiar faces! I hadn't seen Arnold in over 8 years and I bee-lined to give him a hug and say hi like it was only last week we last spoke! He and Ronald also got to meet my mom, since she came along on this trip to check out the town and do all the touristy things while I was at the conference. We ate breakfast with friends and said hi as familiar faces started to slowly pour in. The event was getting ever closer!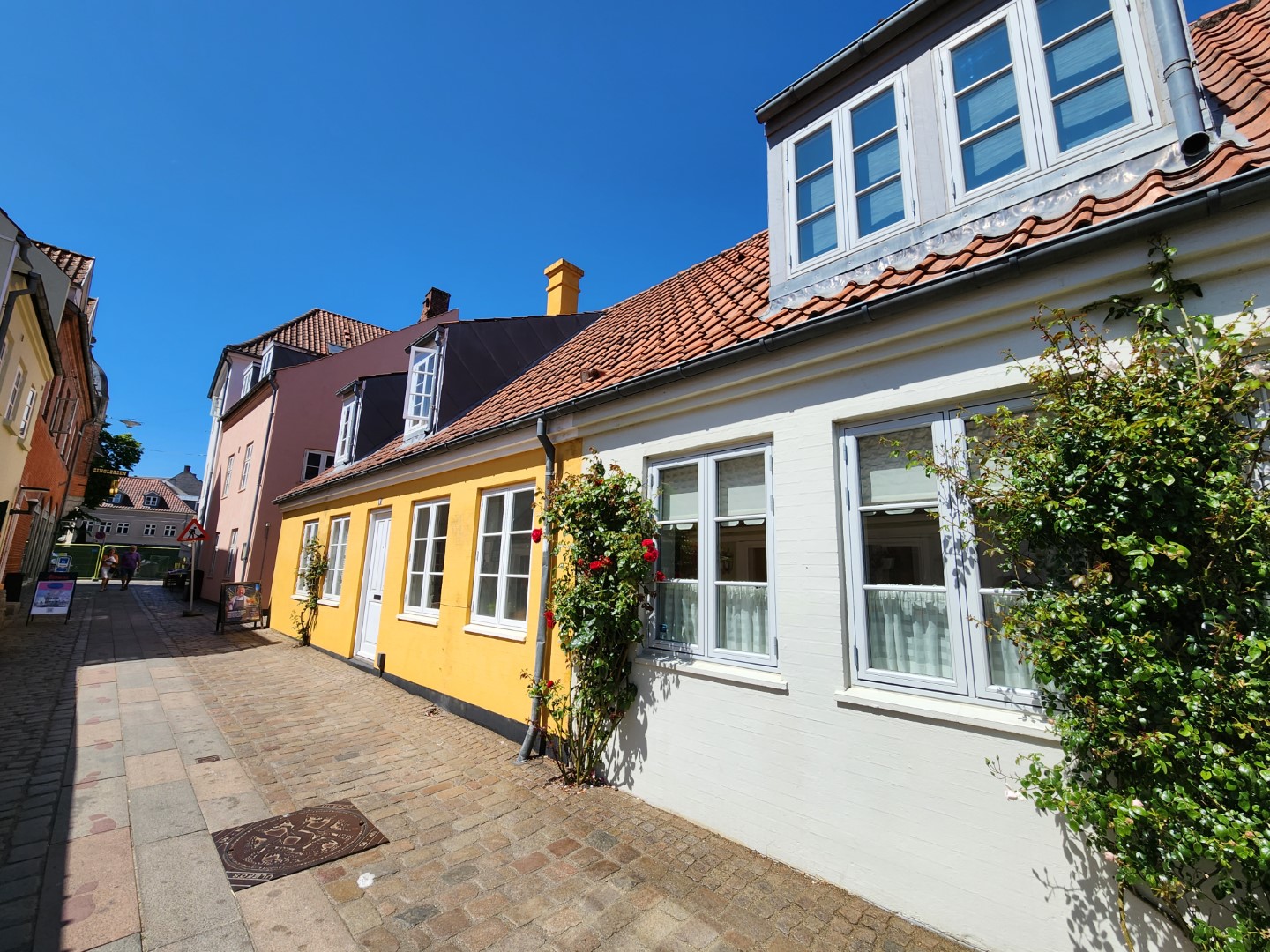 After walking around town through the shops and train station for a bit, I set off to practice my talk yet again. I ran through it a couple of times, looking at my slides, and making sure that I had them split up enough that if the notes were too small on the screen, I would just be able to hit the next slide and see the rest of my notes while the main screen remained unchanged. These are the little things that you don't think of until the last minute when prepping. I figured it would be better safe than sorry since my fail-safe is to go back to my notes when I get nervous and forget who I am and why I am here.
I was beat by the time the pre-party event was about to happen. Jet lag is real and I'm an inexperienced traveler who loves her sleep. I dragged myself up from practicing and told my mom I was going to go hang out for a bit and I'd be back soon. By the way, that was the theme the entire week, saying I'd be back soon or I was leaving and then not actually making any progress until three hours later. It is so hard to leave! The pre-party was fun and Hawaiian themed. The HQ team had hula skirts and passed out colorful flowers to the community. More and more people arrived all evening and it was so much fun to catch up and see so many people who I've not seen in years, as well as meeting so many new people! It is awesome to be in the company of fellow nerds, and I say that with all the love because these people are my extended nerdy family! They understand what it means to work with this tech and be involved in this community and you can truly nerd out and talk for hours over all sorts of similar interesting things about Umbraco and then learn more about everyone's hobbies! There is even an HQ team member who has been on tv for his diving skills. Yea, not the first hobby I would've guessed but super cool no doubt! Can you guess who? Here is a hint, he is good with numbers!
As the evening drew on, I started to say goodbyes however made no progress towards the door. Two hours later into the evening I was given an "out" to go and I sneakily made my way out of the party. It was the only way to actually get home and get some rest since it was too hard to say bye quickly because its just too much fun to talk to everyone!
Codegarden Day 1
Over the years, Umbraco has grown and changed ownership since the last time I attended an event. However, at this year's annual Codegarden conference, I was thrilled to see that the fun vibes and open community were still at the forefront. I don't have a ton of other conference experiences to compare this one too, but the gist is that this tech conference is like none other. The inclusivity of diverse beautiful people with backgrounds in all sorts of areas of the tech industry is amazing. Even better you can always walk up to anyone to say hi and talk with them as if you have been friends for years, even if you have only just met. It is truly a really great place to meet new people and say hi to ones you have not seen in years as if it was only yesterday.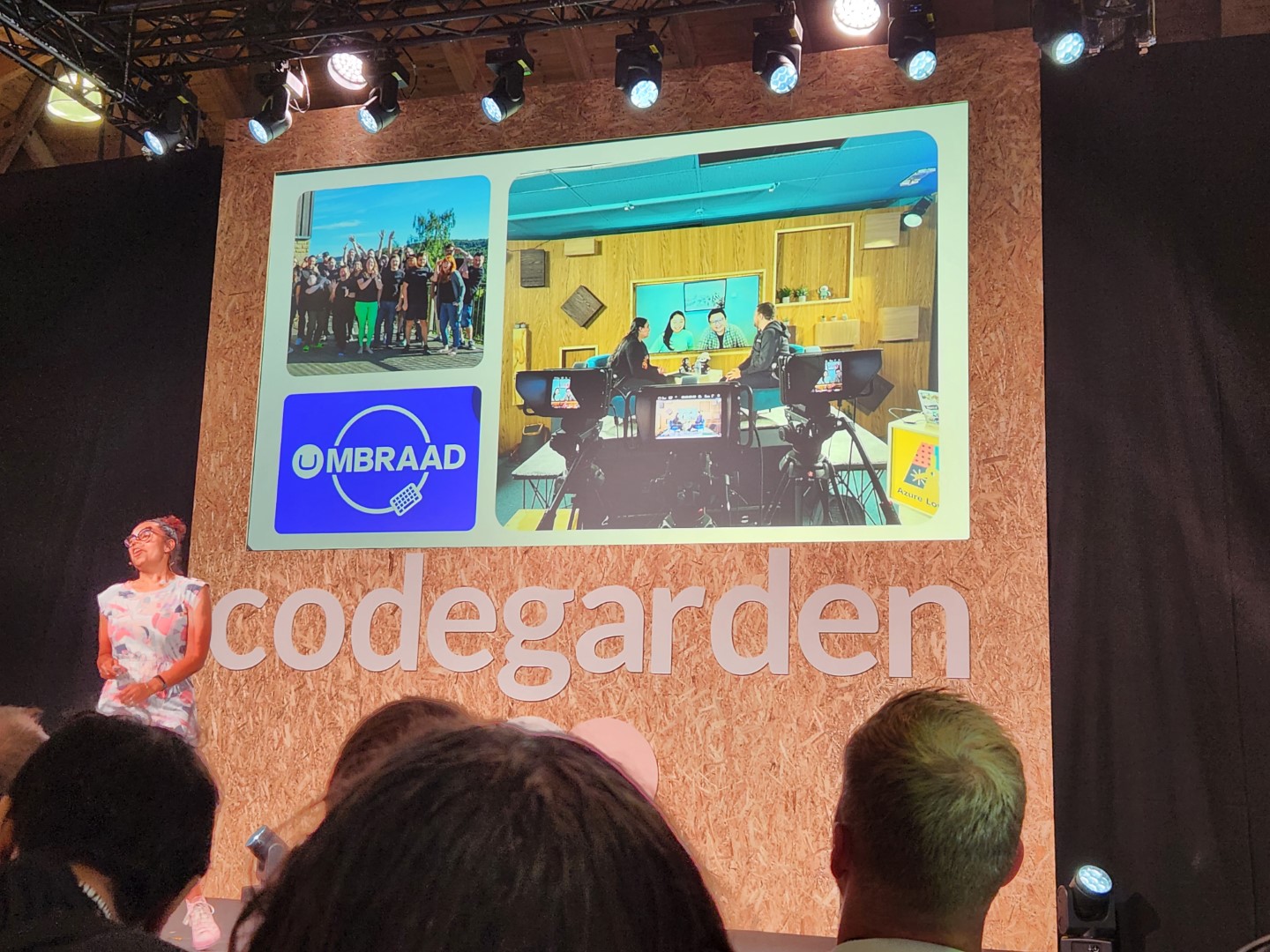 The first day was busy, walking up the venue being greeted with high-fives and seeing the gold painted man out front was pretty welcoming! The day started off with a rush and ended just as much on the high note as it started. There were so many good talks, and during the opening keynote, I got to go on stage with fellow Umbraco MVPs to get our awards! I've never actually thought that becoming an MVP was an attainable goal, I mean just look at the previous MVPs, they did such amazing work with developing packages and maintaining them, submitting code fixes to the core, implementing property editors that got merged into the core… it set the bar very high. I wish I knew that much back-end dev code to build cool stuff to give away and teach people how to do things! I would totally do it all the time if I could! I was definitely surprised to get awarded, because I just don't feel that smart (imposter syndrome, right?). I am super honored though, and I can't wait to continue finding more ways to get involved and help teach and grow the community that I really love.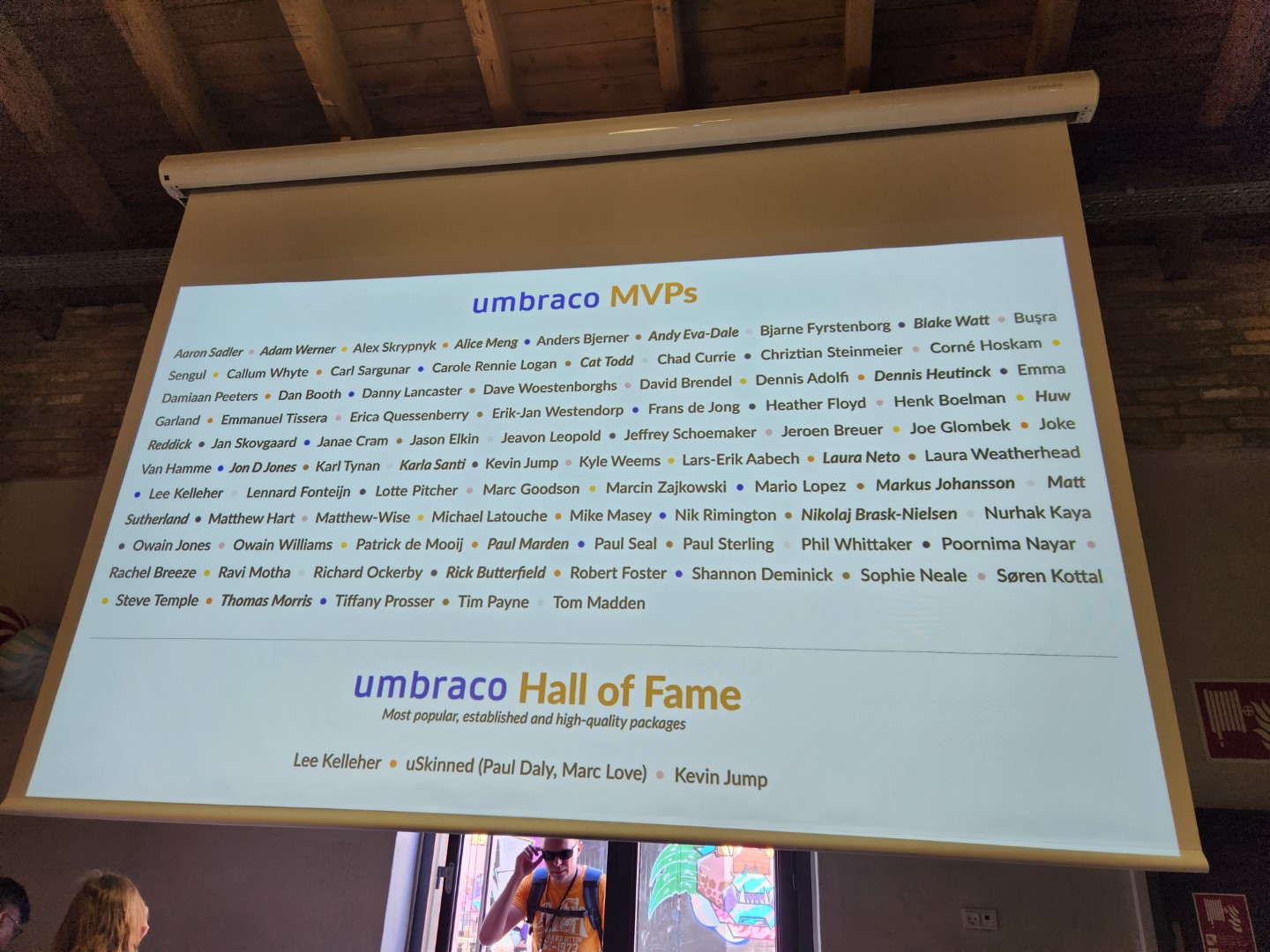 The first day after the keynote was a blur, going from room to room to see talk after talk, which mind you, was in another building so getting from room to room I did feel like I needed to move it, but I was able to socialize and find some buddies to see talks with while on the go!
Lunch was great, have you had bread in Denmark? It's quite amazing, all of it. Can't get enough and highly recommend!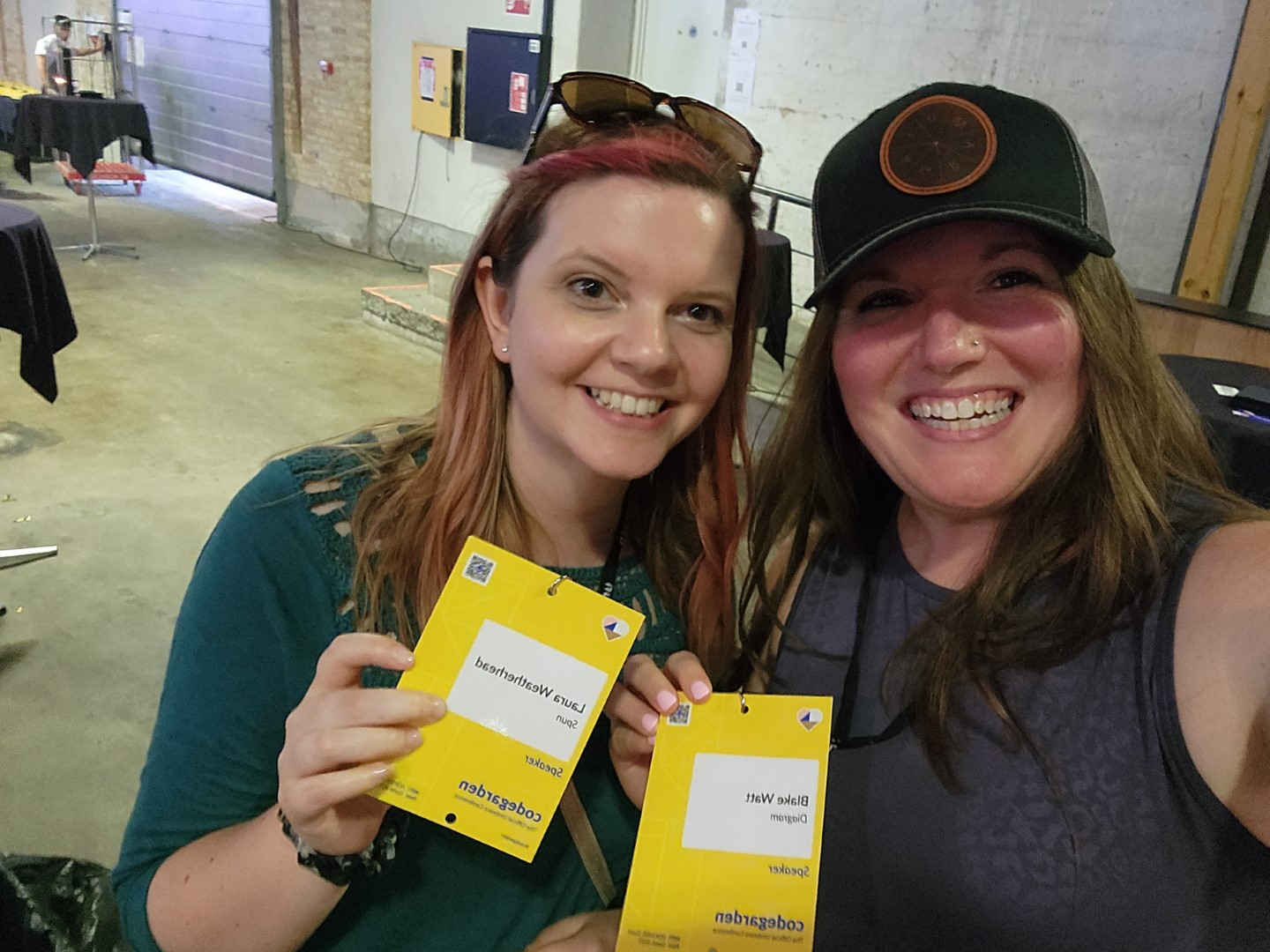 I managed to make it to some of the talks I thought were not going to be recorded, Laura's talk was great about the compassionate developer in open-source and the Strangler Fig Pattern (which I can never seem to remember the name unless I look it up) was a pretty interesting concept for how to go about a rebuild. I made it to Matt's talk about Fun with Flags and Westbrook's talk about scaling up and down with web components, which included a really cool demo of a web component in the Umbraco backoffice to apply photoshop effects to your media right in the CMS!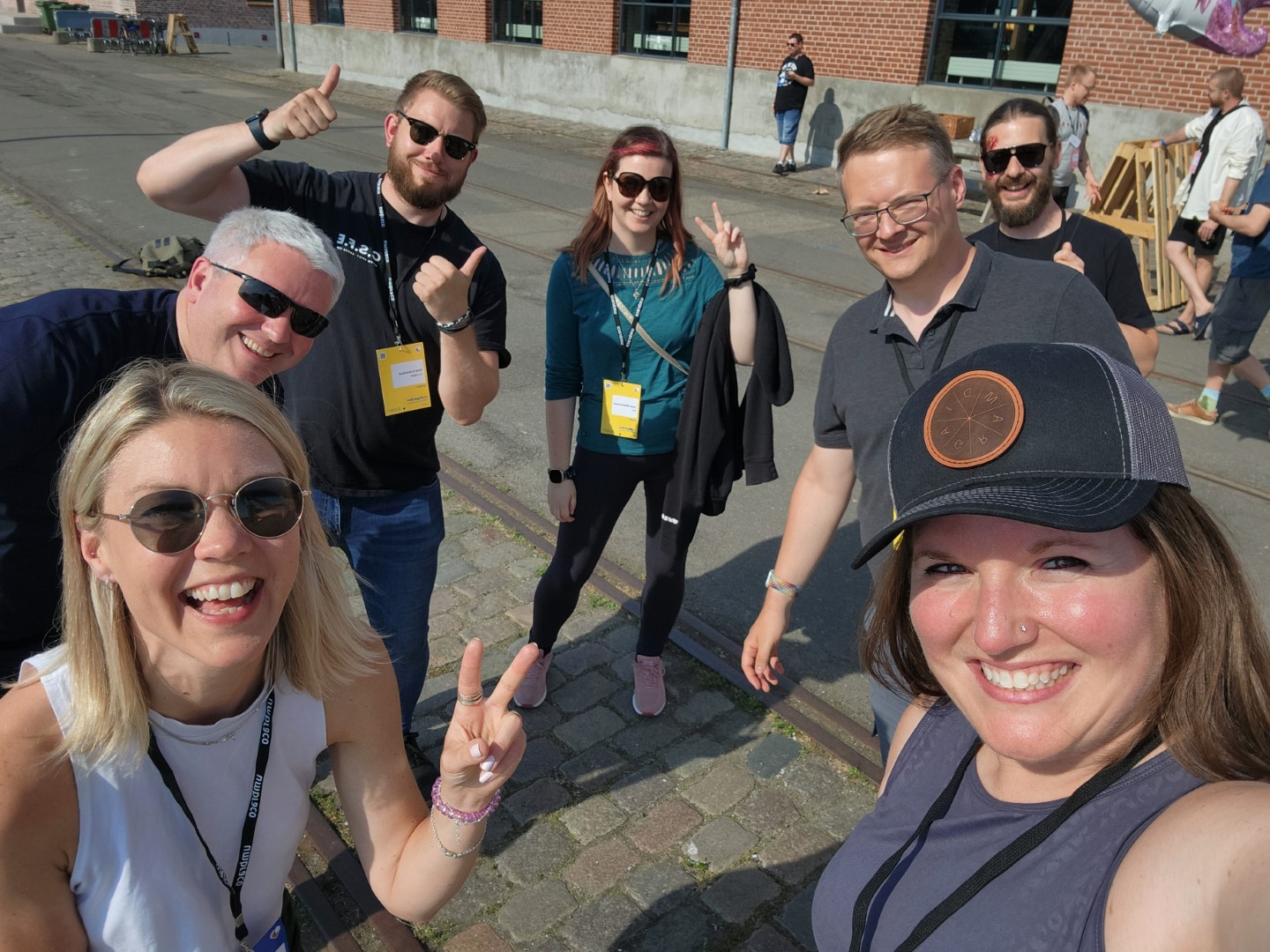 I see such great things coming for umbraco with this new backoffice and I'm super excited about it! Which of course lead me to attending Jacob's talk about exploring the new backoffice. I am again honored to be on the community team for the Umbraco backoffice to help out here where I can with this new implementation and the last talk of the day I attended was the amazing talk about fix the six with Danny and Molly.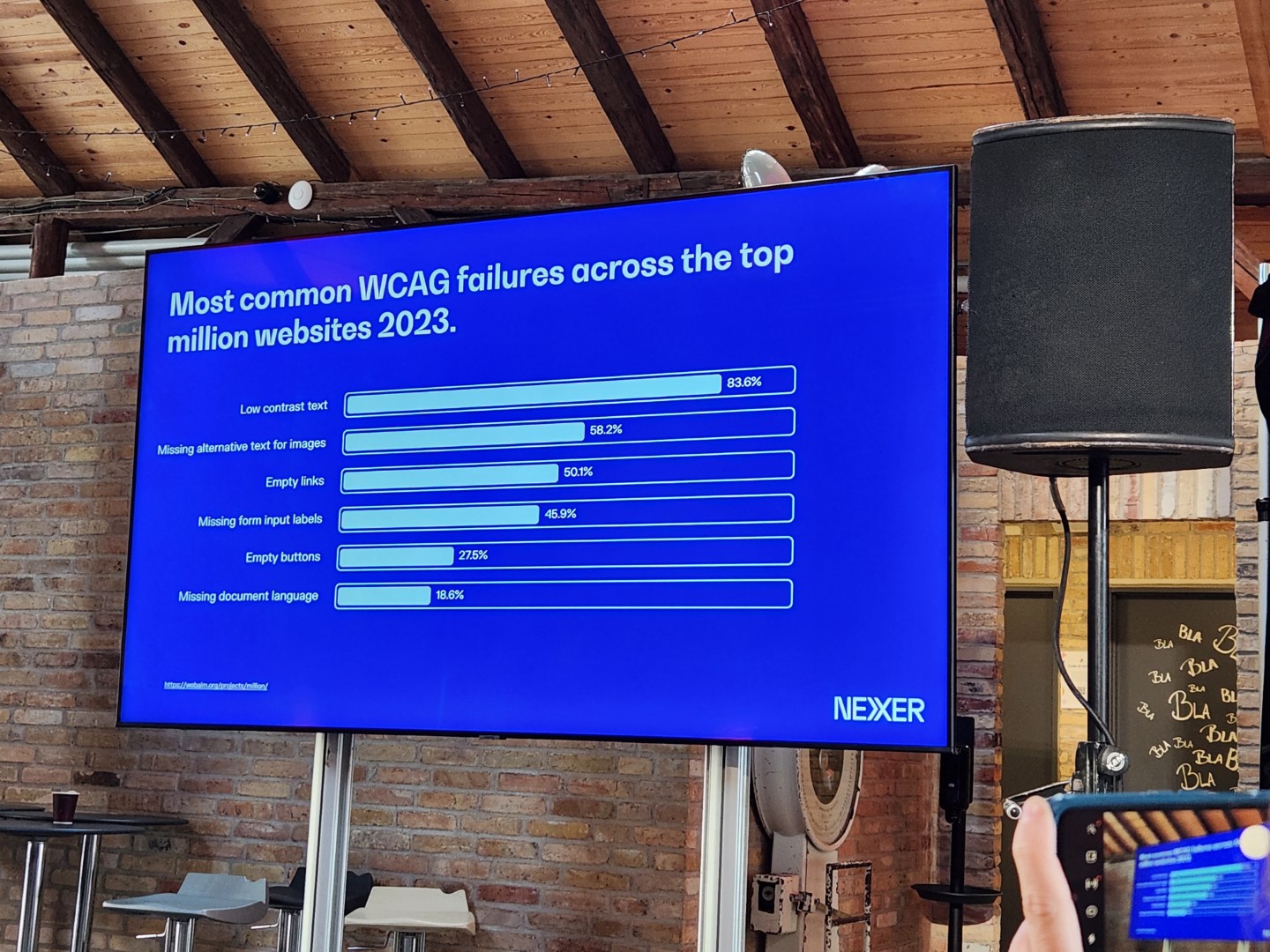 I love the passion they bring to their talk and you can really feel how committed they are to this cause by listening to their talk. I wish it was recorded, but it does turn out that it was recorded at a previous event. These six things they brought up should be on everyones radar and we should be educating our clients to be aware and take action on improving their website accessibility, starting with the basics and content that they can manage themselves.
Once the talks were over, the LIVE recording of Candid contrib took place on stage and I was happy to be in the audience! I can't say how inspiring it is to see more women in tech too, and even seeing the photo of this years women of codegarden was incredible, since the last time I was there was in 2016 and it was a much, much smaller group in the photo. It was really insightful to hear about how passionate people are to teach and help grow the community. It is really inspiring. I wish there was more of a tech community where I lived so I could get involved with some volunteering. I'd love to spread the word of Umbraco and teach.
The evening went on, late im sure, however I did sneak out and watch the Awards on the live stream from my hotel room because I was so tired by dinner time. I wanted to be well rested and on top of my game for Thursday because that was my talking day!
Codegarden Day 2: Presentation Day & Bingo Night
Well needless to say, I was a bit restless Wed night, and was up at 4am again. I read through my talk a couple times in the morning in the hotel lobby while eating breakfast with my mom. To say I was stressing out was an understatement. I barely ate and of course had a tummy ache up until my talk. Most people don't know this, but during my public speaking course in college, when I gave my speech in front of the class, I started crying. Yup. I cried in front of everyone during my speech. Nerves get the best of me. Im happy to report that there were no tears during my presentation in front of about 50 people this time!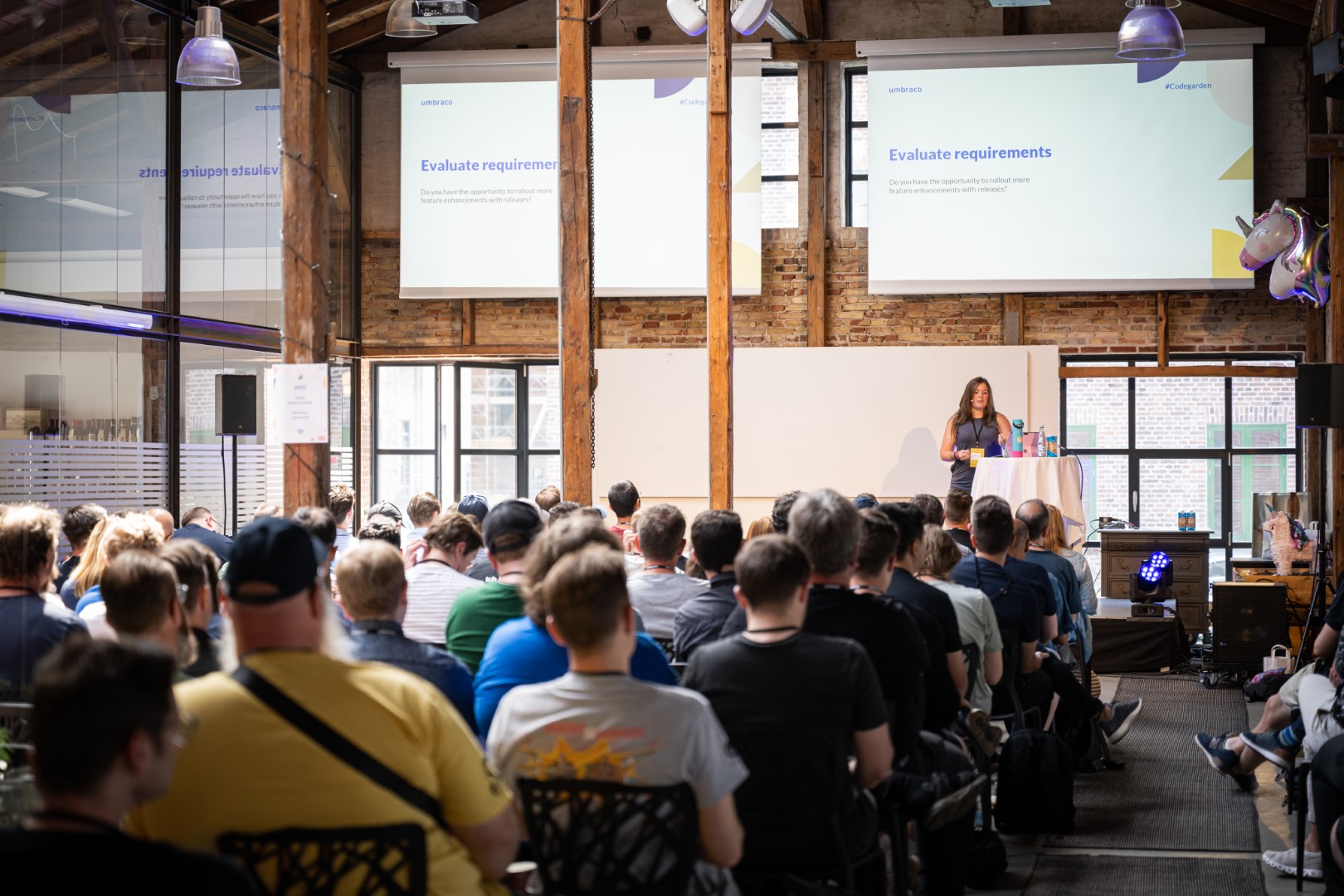 I was able to hit up some good talks Thursday, but I found a few were happening at the same time so I just hoped to catch the recording (once I figure out what was recorded). I started my morning off with Jacobs mental health in technology talk, going to Matt's talk on e-commerce in Umbraco, to Lee's finding contentment talk, which I had to dip a few minutes early to make it to my talk next. I was even more nervous after seeing how many people showed up. My mom was able to come by too, and she recorded it for me from the audience.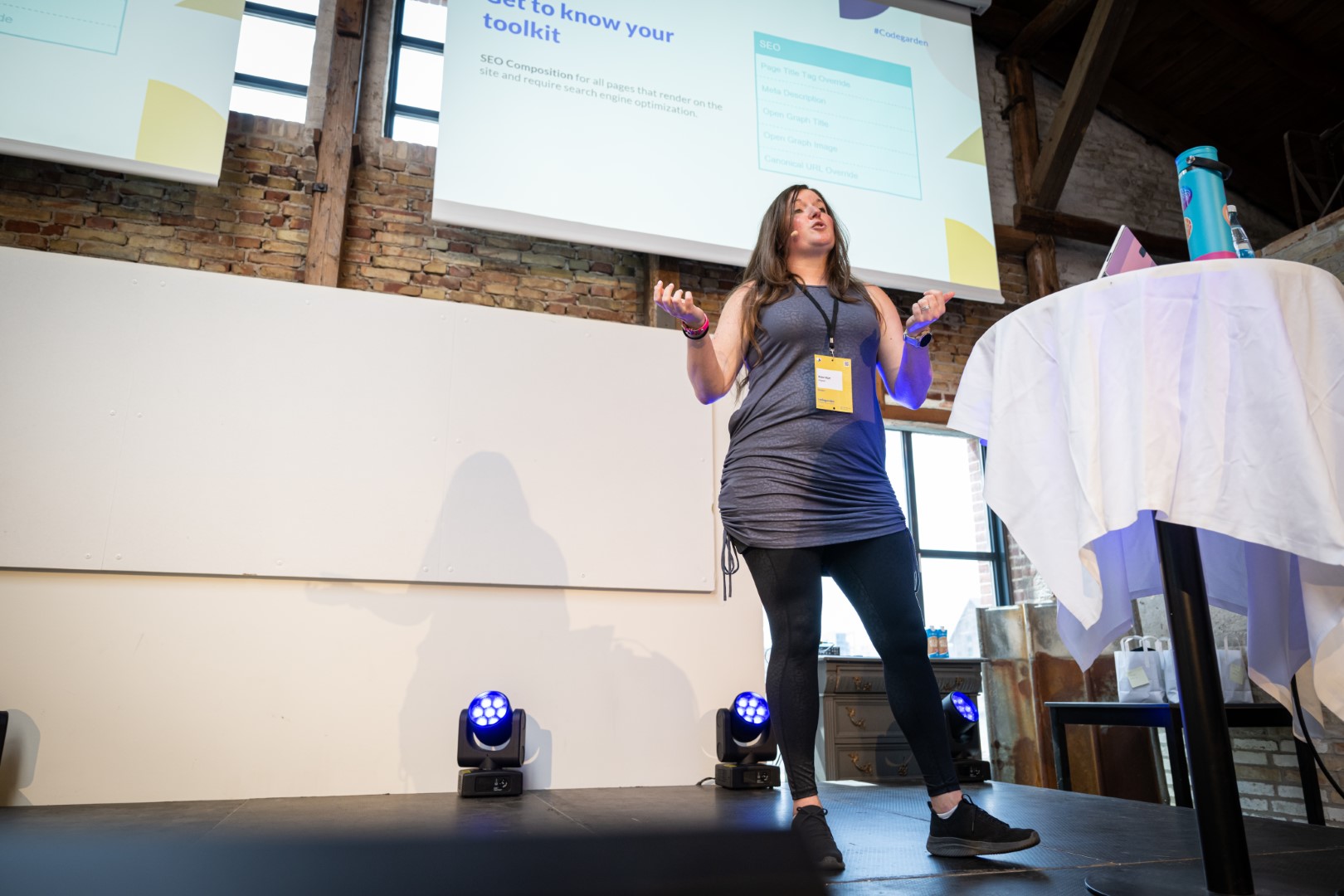 Once my talk was over, I felt like I was finally able to really enjoy the event with this weight lifted off my shoulders I could breathe! I came to share and I did it and what's more, I'd do it again! Thankfully after my talk it was lunch time, and there were still a couple of really good talks to catch too. I caught Nikolaj's talk about testing with playwright and Dave's talk about models builder. I hope to watch the recording (if there is one) of Jonah Andersson's talk about the importance of mentorship and communities in tech. She was truly inspiring just to see her talk about something she is so passionate about.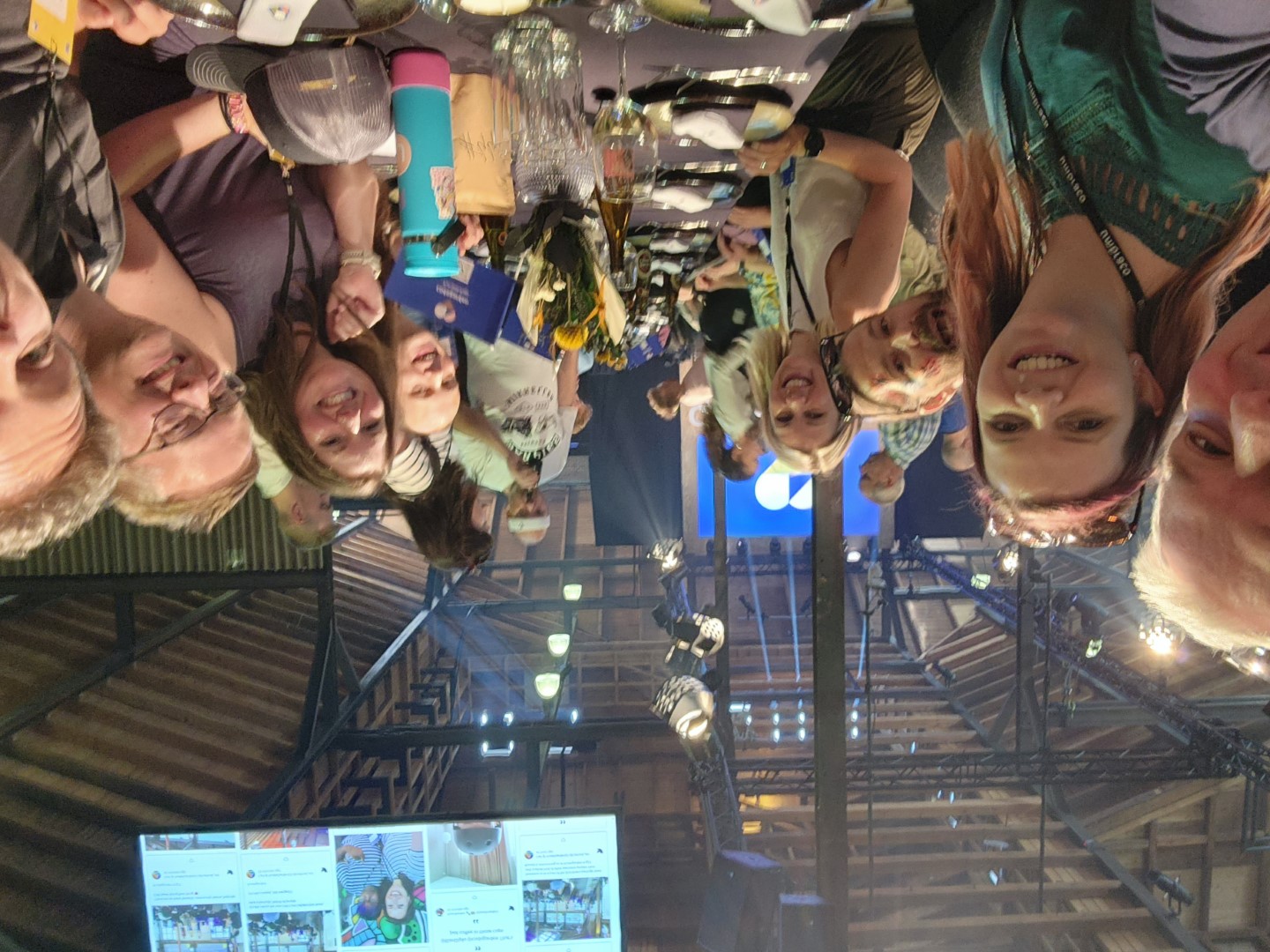 After the talks, it was time for the infamous Bingo Night! Anyone who has been to Codegarden before knows Bingo Night is a total crazy, who knows what is going to happen next, kind of evening! Between the slow-mo videos of things flying at peoples faces, the competition rock, paper, scissors, jenga, and the nintendo game, I'm not sure which part was my favorite but I can honestly say that none of it was actually expected aside from actually playing Umbraco bingo. It was so much fun. I didn't know that jenga could be such a competitive sport but I was surprised. It's hard to even sum up the craziness, this is one of those things where you just need to be there to experience it!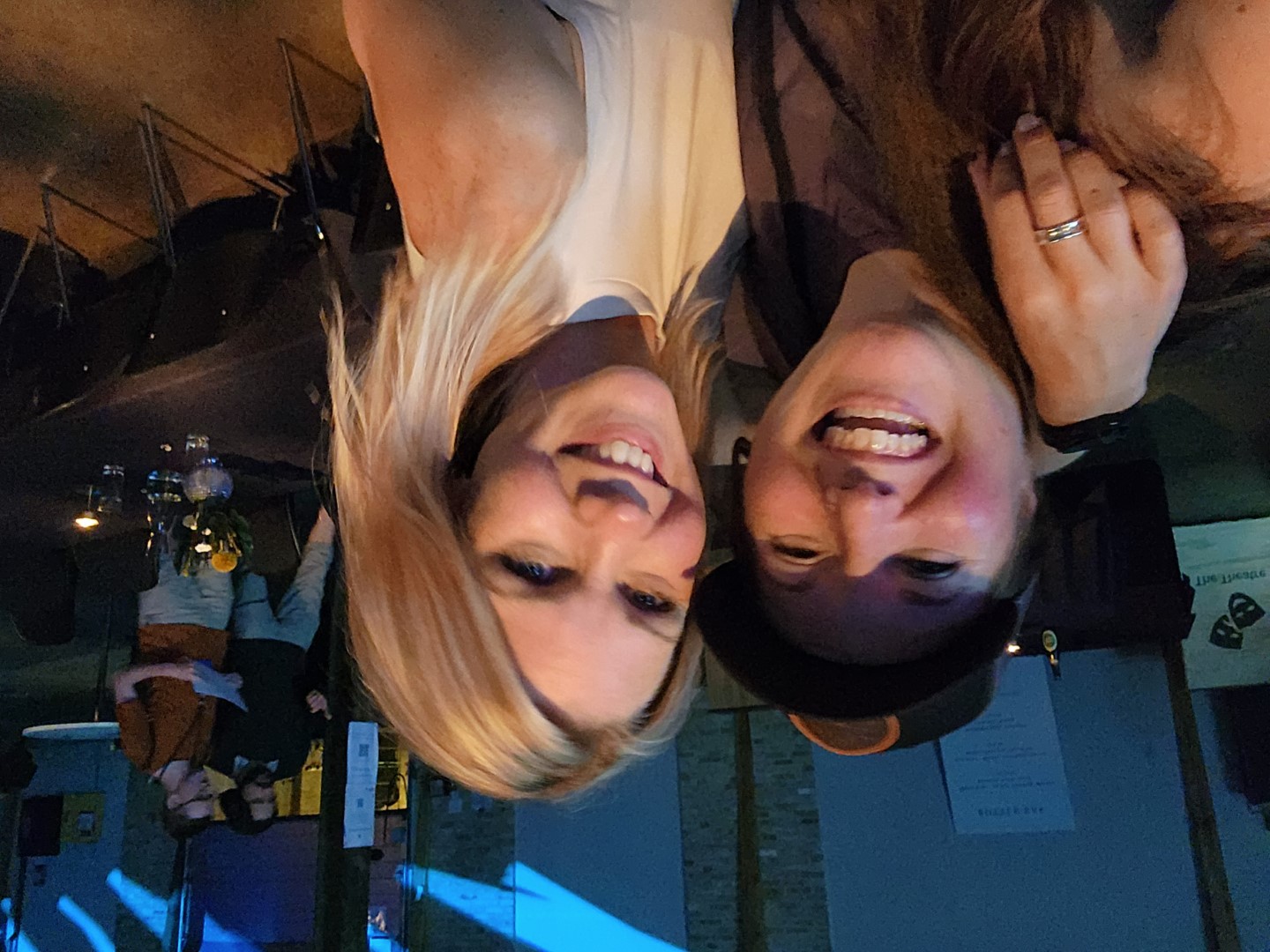 I was also finally able to catch up with Sophie by dinner time as we sat together at the bingo table. We had been trying to say hi and meet up since we got there but running between talks and trying to catch people actually proved to be a bit challenging. We played the hammer game, which I'm still shocked someone came up with a game that involves drinking and hammering.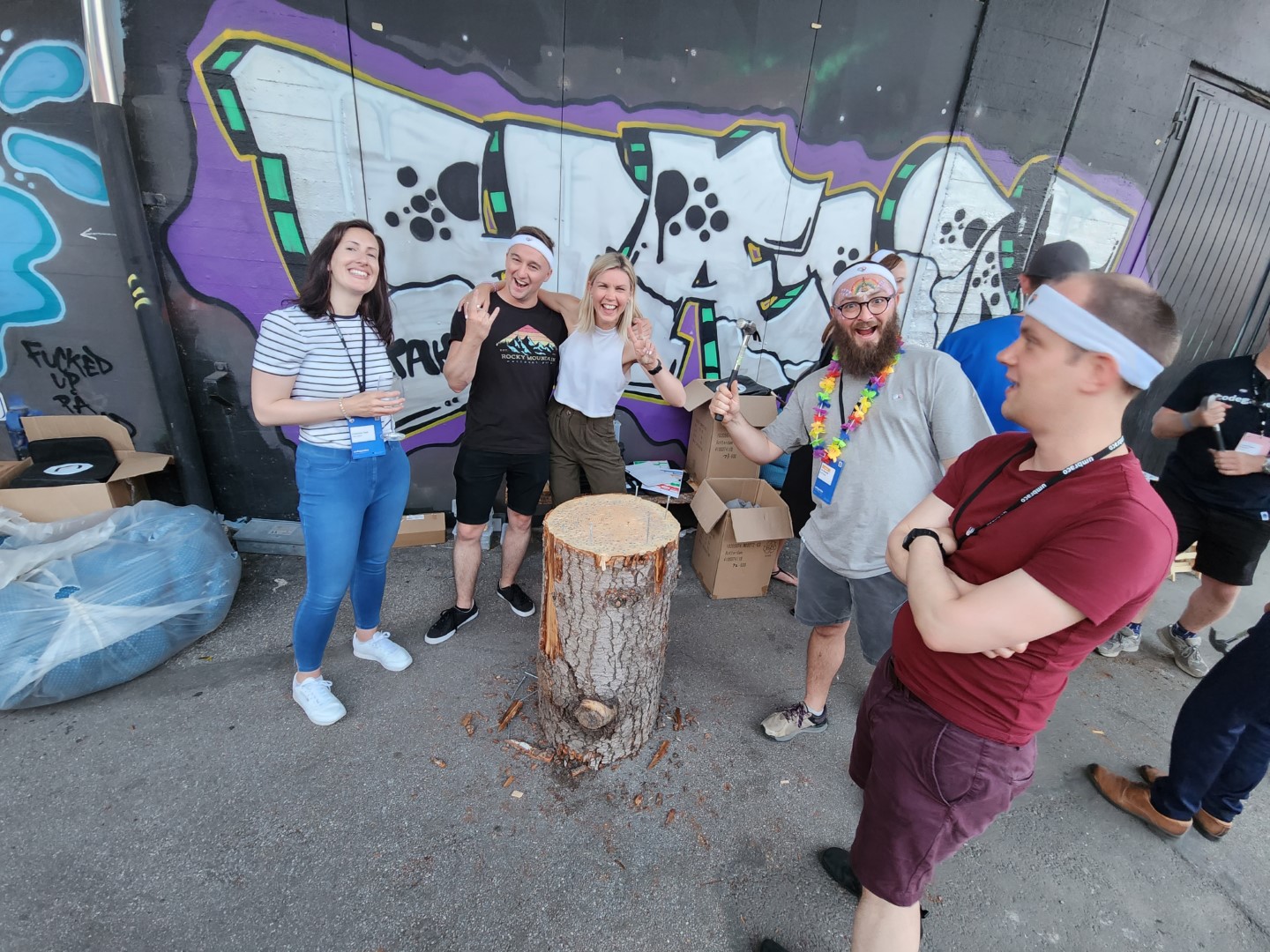 That doesn't sound like a good combination at all, even when sober! I had a lovely evening hanging out with everyone and the Gibe team. I actually had made it to midnight before I was saying my goodbyes. I'm not much a night owl, I rarely stay up passed 9pm (and if I do, I'm dead tired), so midnight was good for me. I ended up walking back into the venue to get my stuff when I realized there was a dance floor! AND a really good DJ! … Needless to say, I didn't get back to my hotel until about 3:30am. That seemed to be the running theme for my evenings once my talk was done, I'd say I'd leave and then 2 or 3 hours later I'd actually make it out. We had such a blast. Not sure how else to describe it.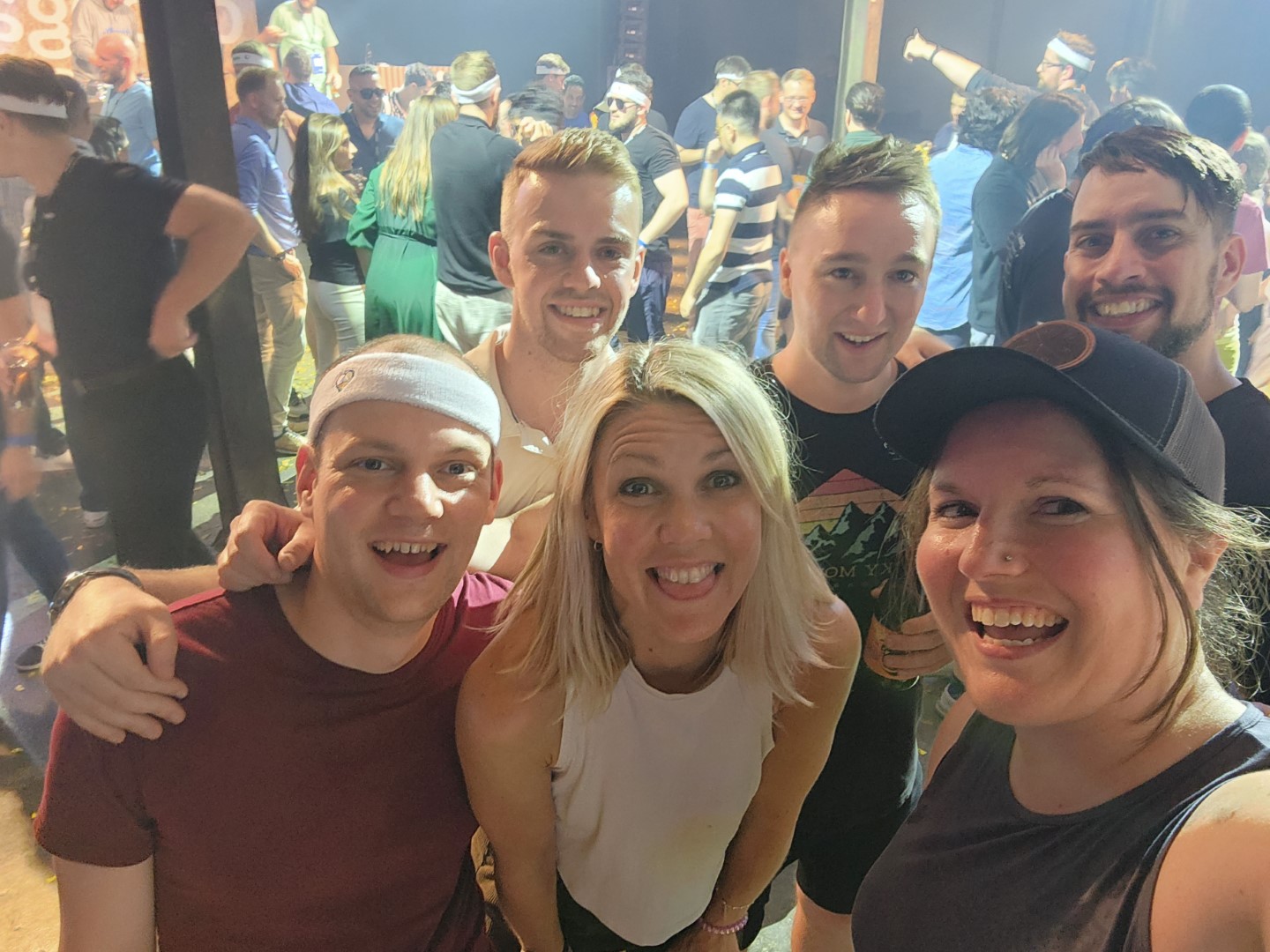 Codegarden: Day 3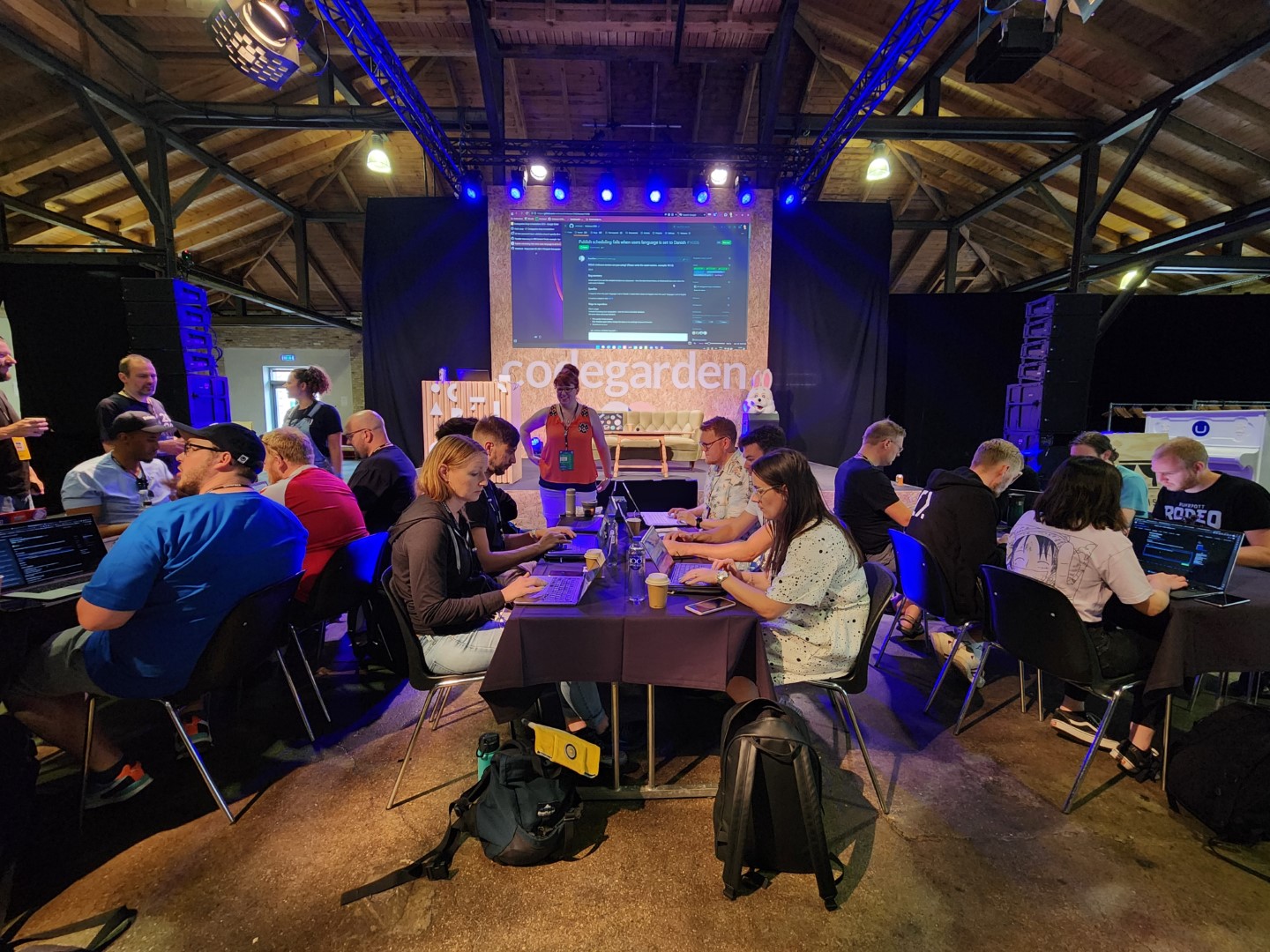 Hackathon day is upon us! I was not mentally prepared to get into some code given I had little sleep the previous night but it was fun to watch. Being the last day of the event, things were beginning to wind down, however there were still a couple good talks to catch and I was able to see Elise Bentley's, Kenn's, and Irina's talk before the closing announcements and goodbyes. I must say, I totally have had technology be 'creepy' and that was a really relatable topic (I'm looking at you Alexa).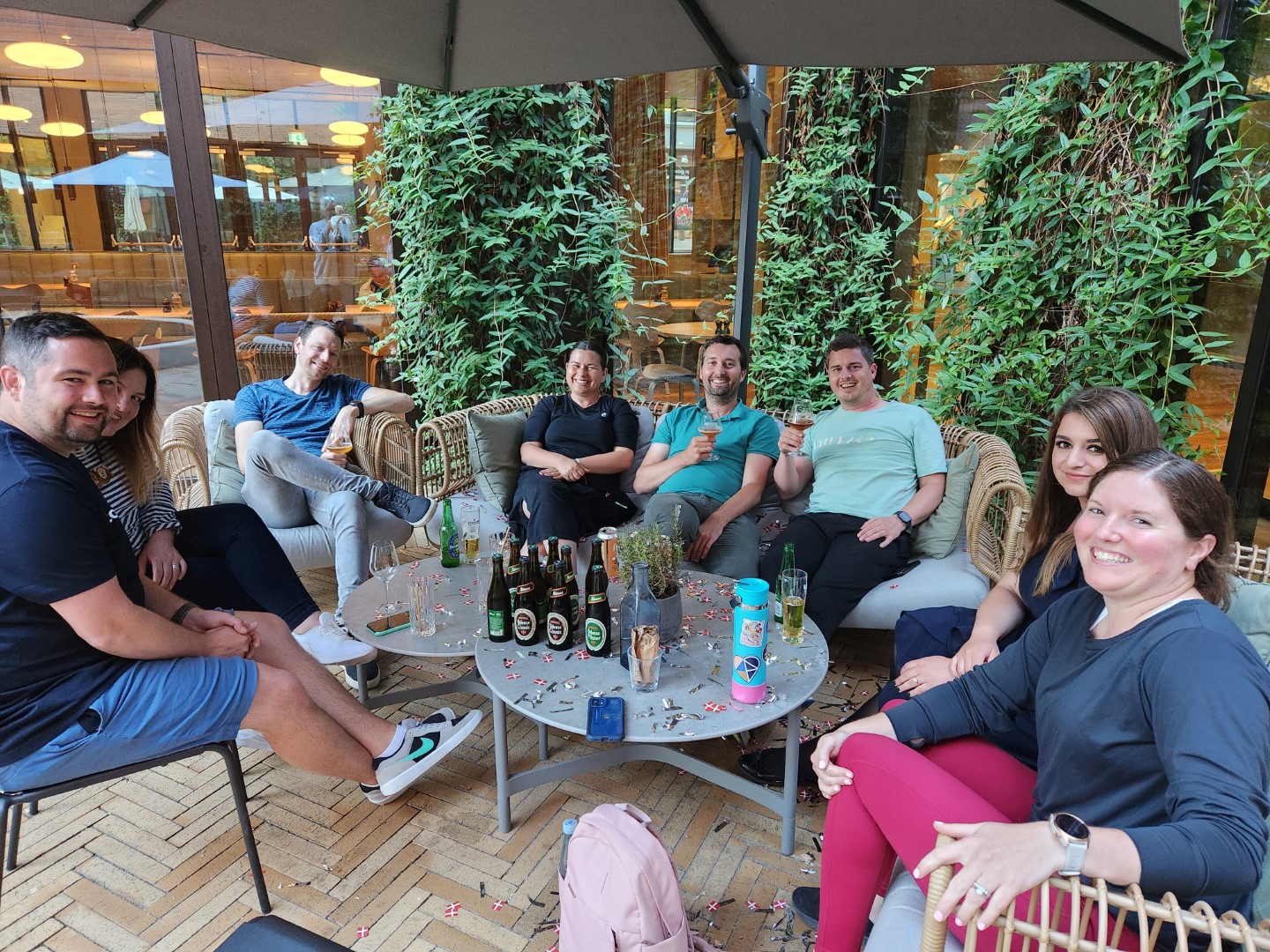 With the evening winding down, a group of us ended up heading back to the hotel to take a break and meetup again downstairs in the evening. I was tempted to catch up on my sleep since I was running on 3 hours and a nap was much needed but I opted for cleaning up and being social one last time and I am so glad I did. Friday evening ended up being just as random as bingo night! As we sat outside the hotel at the table, we had some soccer fans come up who were renting the conference room to celebrate the soccer game. They were all decked out in their soccer gear and the boss man even came over and randomly confetti cannoned us on the patio.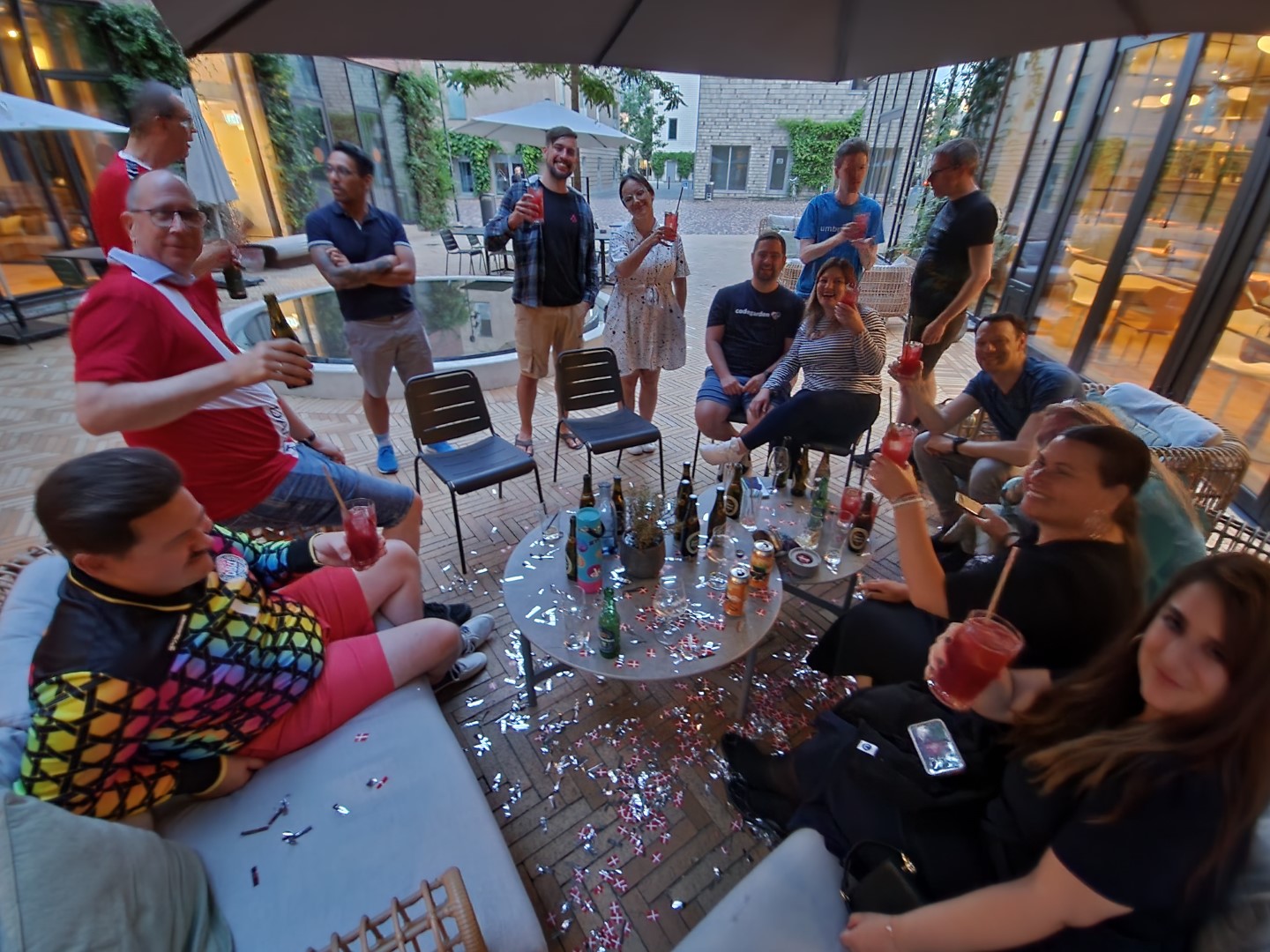 I've never been confetti cannoned a day in my life until the Umbraco conference. The confetti cannon had been a big thing, all week at the conference, made for some really great pictures too, and now randomly at the hotel here we are being confetti cannoned by a stranger! How random is this?! Then he runs back inside and comes back out with a bunch of beers and they were all so kind and kept inviting us to go party with them to watch the game and drink. There were about 10 of us at the table outside and this entire time we could not stop laughing! It was hilarious because it was so random and as each one of the soccer fans came out one by one to meet us all and talk to us, they ended up going around our circle 3 separate time asking everyone where they were from because we had such a diverse group of people from all over the world. It was so funny to see their reactions and they were absolutely so friendly! After hours of talking, once again 2 hours past when I said I was going to go back up to the room, I ended up heading back up at midnight. Mom actually stayed and went out to the bars with the group of soccer fans and was out super late with them (pulling a me on Thursday night). It was quite a hilarious and random evening just hanging out and it was nice to get that time to say goodbyes before most people were headed back home.
Traveling: Part 2
Saturday morning rolled around quick and it was hard to get out of bed in the morning. We were up and off early to catch the train, thankfully this time we were able to get seats. I said my goodbyes and left mom at central station. She headed off to finish out her traveling trip and I headed towards the airport and made it with plenty of time to spare. I was dreading a long day of travel but trying to stay awake for as long as I could so I could sleep on the plane.
Take off time was finally here and within 5 minutes of being on the plane while people were still boarding, I was asleep… and about 5 minutes later I woke up to everyone being de-boarded from the plane. We hadn't even moved yet and they were telling us they needed to fix the plane. **Sigh.** Fast forward 5 hours from when I arrived at the airport, I was now being told that they were cancelling the flight. After waiting in the customer service line for over an hour, I was rebooked for the same flight the next day and had a hotel room set for the evening. I should've stayed with my mom, but it was easier to stay at the hotel close to the airport.
Sunday went smoothly up until I got back into the states, where customs took so long that I missed my connecting flight. Thankfully they were able to rebook me on the next flight out which was an hour later so I was able to get home sunday by midnight. It was a long trip back and I really don't enjoy the airplane traveling part of trips, but I am happy to do it to take part in some awesome community events.